Welcome to our website. If you continue to browse and use this website, you are agreeing to comply with and be bound by the following terms and conditions of use, which together with all other policies published on our website govern Lasseter Family Winery's relationship with you in the context of this website and/or our mobile sites and applications (the "Site").
The term "Lasseter Family Winery" or "us," "our," or "we" refers to the owner of this website. The term "you" refers to the user or viewer of our website.
We reserve the right to amend the Terms from time to time by posting a new agreement on this Site. We advise you to read these Terms prior to every use of, or purchase from, the Site. Your use of the Site or purchase of any product or service from us constitutes acceptance of these Terms, our Privacy Policy, and any additional terms that govern certain products, services, or offerings as well as other legal notices, terms, and policies on this Site (together referred to as "Terms"), all of which are expressly incorporated herein by reference. If you do not accept these Terms and/or any amendments thereto, please do not use the Site.
The use of this website is subject to the following terms of use:
The content of the pages of this website is for your general information and use only. It is subject to change without notice.
Neither we nor any third parties provide any warranty or guarantee as to the accuracy, timeliness, performance, completeness or suitability of the information and materials found or offered on this website for any particular purpose. You acknowledge that such information and materials may contain inaccuracies or errors and we expressly waive any claim liability for any such inaccuracies or errors to the fullest extent permitted by law.
Your use of any information or materials on this website is entirely at your own risk, for which we shall not be liable. It shall be your own responsibility to ensure that any products, services, or information available through this website meet your specific requirements.
This website contains material which is owned by or licensed to us. This material includes, but is not limited to, the design, layout, look, appearance, and graphics. Reproduction is prohibited other than in accordance with the copyright notice, which forms part of these terms and conditions.
The content of this Site, including without limitation, any designs, logos, text, images, audio, and video materials, software, graphics, and all copyrights, trademarks, services marks, trade names, logos, and other intellectual property or proprietary rights contained therein is owned by us and/or licensed by us from third parties (the "Proprietary Material"). Unauthorized use of the Proprietary Material may violate copyright, trademark, and other laws. You have no right to use, copy, reproduce, display, or distribute the Proprietary Material. All rights with respect to the Proprietary Material remain our exclusive property. Any use or reproduction of the Proprietary
Material other than for private, non-commercial purposes is prohibited without our express prior written consent. All rights not granted hereunder are expressly reserved by us.
From time to time, this website may also include links to other websites. These links are provided for your convenience to provide further information. They do not signify that we endorse the website(s). We have no responsibility for the content of the linked website(s).
You may not create a link to this website from another website or document without Lasseter Family Winery's prior written consent.
Your use of this website and any dispute arising out of such use of the website is subject to the laws of the State of California and the United States of America.
You must be 21 years of age or older, to order or receive alcoholic beverages from Lasseter Family Winery. Receipt of shipments containing alcoholic beverages requires the signature of a sober adult (a person 21 years of age or older who is not intoxicated). Wines purchased from Lasseter Family Winery are not for resale and are for personal consumption only.
The Site is intended for use by residents of the United States ("U.S.") or non-residents that agree to use the Site in accordance with U.S. laws, these Terms, and our Privacy Policy. The Site is designed and targeted to U.S. audiences, and is governed by the laws of the U.S. By accessing and using the Site and its features, you represent and warrant that (a) all information you submit is truthful and accurate; (b) you will maintain the accuracy of such information; (c) you are 21 years of age or older; (d) your use of the Site and its features does not violate any applicable law, rule, or regulation.
Your use of the Site is at your own risk. THE SITE IS PROVIDED ON AN "AS IS" BASIS. FURTHER, TO THE FULLEST EXTENT PERMISSIBLE BY LAW, WE MAKE NO REPRESENTATIONS OR WARRANTIES REGARDING THE ACCURACY, RELIABILITY, OR COMPLETENESS OF THIS SITE'S CONTENT OR THE CONTENT OF ANY SITE LINKED TO FROM THE SITE. CHANGES ARE PERIODICALLY MADE TO THE INFORMATION HEREIN. WE AND/OR OUR RESPECTIVE AGENTS MAY MAKE IMPROVEMENTS AND/OR CHANGES IN THE PRODUCT(S) OR SERVICE(S) OFFERED AND/OR THE PROGRAM(S) DESCRIBED HEREIN AT ANY TIME. WE HAVE NO DUTY TO UPDATE THE SITE OR THE CONTENT HEREOF AND, TO THE FULLEST EXTENT PERMITTED BY LAW, WE SHALL NOT BE LIABLE FOR ANY FAILURE TO UPDATE SUCH INFORMATION. TO THE FULLEST EXTENT PERMITTED BY LAW, WE DISCLAIM ALL WARRANTIES, EXPRESS OR IMPLIED, INCLUDING, WITHOUT LIMITATION, WARRANTIES OF NON-INFRINGEMENT OR TITLE, AND IMPLIED WARRANTIES OF QUALITY, PERFORMANCE, MERCHANTABILITY, FITNESS FOR A PARTICULAR PURPOSE, SECURITY, AND ACCURACY. FURTHER, WE DO NOT WARRANT THAT THE SITE OR ANY SOFTWARE MADE AVAILABLE ON THE SITE IS COMPATIBLE WITH YOUR COMPUTER, OR FREE OF COMPUTER VIRUSES. WE DO
NOT GUARANTEE CONTINUOUS, UNINTERRUPTED, OR SECURE ACCESS TO THE SITE.
TO THE FULLEST EXTENT PERMITTED BY LAW, YOU AGREE THAT WE (INCLUDING, ANY OF OUR AFFILIATES, AND ANY OF OUR OR THEIR RESPECTIVE OFFICERS, DIRECTORS, EMPLOYEES, OR AGENTS), WILL NOT BE LIABLE FOR LIABILITY, LOSS, DAMAGE OR EXPENSES ARISING OUT OF OR SUFFERED BY YOU AS A RESULT OF YOUR VISIT TO OR USE OF THIS SITE OR ANY LINKED SITE, ANY MATERIALS PROVIDED ON THE SITE OR DOWNLOADED FROM THE SITE, INABILITY TO USE THE SITE OR ANY ERROR IN THE PROVISION OF THE SITE, ANY COMPUTER VIRUS OR OTHER EXECUTABLE CODE THAT YOU MAY DOWNLOAD FROM THE SITE, AND ANY OTHER DEFECT THAT IS TRANSMITTED THROUGH THE SITE, UNAUTHORIZED ACCESS, THEFT, OPERATOR ERRORS, STRIKES OR OTHER LABOR PROBLEMS, OR ANY FORCE MAJEURE, WHETHER SUCH LOSS OR DAMAGE ARISES FROM OUR NEGLIGENCE OR OTHERWISE. UNDER NO CIRCUMSTANCES WILL WE BE LIABLE, WHETHER IN CONTRACT, TORT, STRICT LIABILITY, OR OTHERWISE, FOR ANY INDIRECT, PUNITIVE, SPECIAL, CONSEQUENTIAL, OR INCIDENTAL DAMAGES (INCLUDING WITHOUT LIMITATION LOST PROFITS, COST OF PROCURING SUBSTITUTE SERVICE, OR LOST OPPORTUNITY); EVEN IF WE WERE MADE AWARE OF THE POSSIBILITY OF SUCH DAMAGES.
You agree to defend, indemnify, and hold us, our subsidiaries, business partners, contractors, distribution partners, representatives, directors and affiliates, and each of our respective officers, agents, partners, and employees, harmless from any loss, liability, claim, or demand, including reasonable attorneys' fees, issued by any third party due to or arising out of your use of the Site in violation of these Terms and/or arising from a breach of these Terms (including, without limitation, any breach of your representations and warranties set forth herein and/or applicable law).
Effective 4-1-1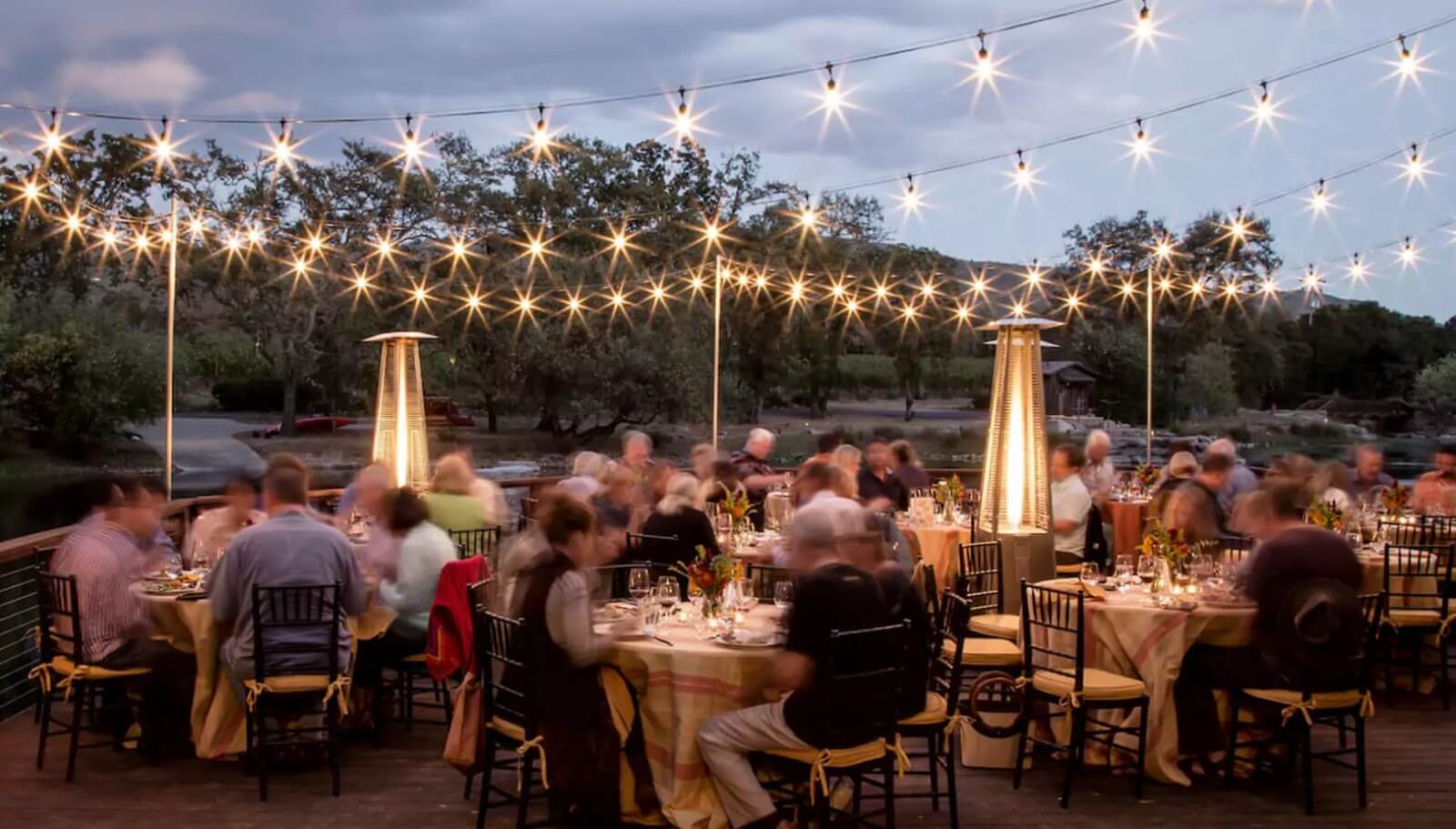 MEMBERSHIP
Join us for early access to new releases, exclusive access to special bottlings and winery events