In 1993, Nancy and John Lasseter moved to the town of Sonoma, and soon discovered the art of winemaking through a small group of winemaking friends. In time, their passion evolved from wine appreciation to a full immersion in the winemaking process.
As their dream of Lasseter Family Winery evolved, John and Nancy began to consider options for a winery of their own. When a historic Sonoma Valley winery and vineyard, in need of significant restoration and renovation, became available in 2002, John and Nancy decided it was the perfect place to continue their story.
During their travels through the wine growing regions of France, they fell in love with the wines of the Southern Rhône and Bordeaux, and the art of blending, which became the template for Lasseter Family Winery's wines. Over time, the winemaking has evolved to a true expression of place, as our vineyards have shown us the range of expression possible from their unique, diverse terroir.
Today, the Lasseters work collaboratively with a passionate pedigreed team to craft distinctive wines reflective of place, informed by art, and produced with a convivial approach to the family business.
The Lasseters feel that serendipity led them to this special property, founded by a French winemaker in 1894. At the time, Glen Ellen was home to a significant number of French-speaking settlers, many of whom were growing grapes and producing wine. This heritage meshed perfectly with Nancy and John Lasseter's love of French wines and the old world approach to winemaking. They acquired the property in 2002.
Since the original production facility had been modified extensively over the years and had lost all significant historical value, they built a new, eco-friendly winery, finished in 2011. The understated structure, designed by architect Jessie Whitesides, pays homage to early Californian architecture. Built within the footprint of the historic winery site, it maintains a low profile and uses subtle materials that complement the surrounding natural environment. Using state of the art equipment, the emphasis is on cleanliness, minimal handling, and limited intervention.
Lasseter Family Winery is open to the public by appointment only. To schedule a tasting, click here.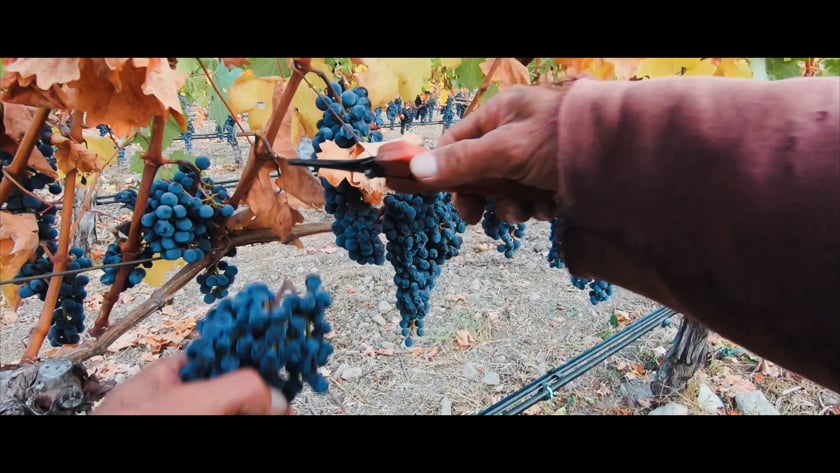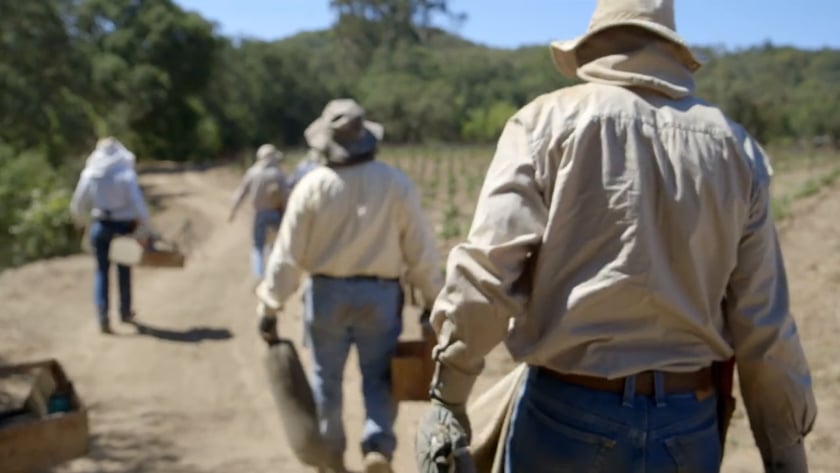 The Lasseter Family Winery estate property in Sonoma Valley is rich in historical significance, encompassing organically farmed vineyards and an eco-friendly winery. Justi Creek Vineyards, part of the stunning 95-acre ranch on the outskirts of Glen Ellen, is comprised of three adjacent parcels of land, formerly parts of Rancho Vallejo and Rancho Los Guilicos.
Flourishing under the watchful eye of vineyard manager Phil Coturri, the 38 planted acres of certified organic vineyards express the unique terroir of this historical site. Each of the vineyard blocks has its own personality and the location of each grape variety is carefully selected for optimum quality. Check out the video above highlighting our organic farming philosophy.
The Upper Bench Blocks are seventeen acres of benchland situated above the valley floor, on undulating terrain known locally as the "Glen Ellen Moguls." The quick-draining, cobbly soils of these blocks are ideal for the red Bordeaux varieties Cabernet Sauvignon, Cabernet Franc, Merlot and Malbec.
The Heritage Blocks, ten acres just west of the winery, are the warmest location on the estate. A century-old Zinfandel block gives its name to these vines, which are comprised of a classic field blend that includes eight other varieties. The balance of the blocks is being redeveloped (in traditional goblet style) to include the red Rhône varieties Syrah, Grenache, Mourvèdre and Cinsault.
The seven-acre Creekside Blocks lie on the valley floor, along the east side of Calabasas Creek. These blocks, planted in the rocky soil of an alluvial fan, are home to the red Rhône varieties Syrah, Grenache and Mourvèdre.
More recently, the Lasseters have acquired Trinity Ridge Vineyard, high atop Moon Mountain, opening a new chapter with its rugged, rocky, volcanic terroir that produces strikingly intense single-varietal wines.
Nancy and John Lasseter first met at a computer graphics conference in San Francisco in 1985. They shared a love of storytelling, and soon discovered they both loved wine as well. Each was already in a brown bag tasting group – John at Pixar, and Nancy at Apple. In pursuit of this mutual passion, they would often escape to Wine Country for romantic getaways, and they chose bountiful Sonoma County for their honeymoon.
In the early '90's they sought to put down roots in a small town where they could raise their five children, and it followed naturally that Sonoma Valley would become their home. Then, shortly after establishing themselves in the community, they caught the winemaking bug and went to work on what would soon become a fruitful new venture. By 1997 they were bottling their own Bordeaux blend to give out as Christmas gifts, and Lasseter Family Winery was born.
Their zest for living can be seen in every aspect of the winery. John's love of trains is represented on every bottle of Chemin de Fer and a classic steam locomotive runs through the estate vineyards. As patrons of the arts, they collected work by several local artists, which led them to commission Dennis Ziemienski to capture their spirit and passion for wine in a series of label paintings. Nancy's addiction to puzzles then sparked the idea of turning Dennis' magnificent label images into a collection of wooden jigsaw puzzles.
The Lasseter's five sons helped with beekeeping and many other projects on the property throughout their childhoods. John's beloved father "Papa," the winery's self-proclaimed "sidewalk supervisor" and "estate Doberman," lived on the property. Papa worked tirelessly on harvests and bottlings well into his '80s. He served as guardian and inspiration to everyone, and it was a tragic loss for the family when Papa passed away in 2011. Papa's brother "Uncle Bill" and Bill's wife "Aunt Ruth" remain regulars at the winery today.
The Lasseter family dogs, Frank and Chocolate Mousse, greet guests and patrol the vineyards for jackrabbits; and Estate Manager Glynn's high-spirited dog, Brixie, never misses a party.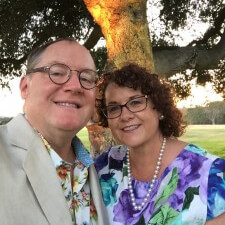 John and Nancy Lasseter first met at a computer graphics conference in San Francisco in 1985. They shared a love of storytelling, and soon discovered they both loved wine as well. In pursuit of this mutual passion, they would escape to Wine Country for romantic getaways, and they chose Sonoma County for their honeymoon. In the early '90's they moved to Sonoma Valley, where they felt they could put down roots in a small town and raise their five children. Once established in the community, they quickly caught the wine bug; and by 1997 they were bottling up their own Bordeaux blend to give out as Christmas gifts. Soon enough, the Lasseter Family Winery was born. As passionate about conservation as they are about wine quality, their historic estate vineyard is farmed organiclly, accompanied by a state-of-the-art, eco-friendly winery.
While studying chemistry at University of Colorado at Denver, Danielle sensed that laboratory research would not fulfill her passion. Throughout her young adult life, Danielle's father, Jack Langlois, shared his love of wine, and continually encouraged her to move to California and explore winemaking. Finally, in the late summer of 2013, she took his advice and moved to Sonoma, where Robert Kamen gave her her first wine opportunity, as a harvest cellar intern. There she met Phil Coturri, and after working for him, and with him during her time at Mark Herold Wines, he recommended her to the Lasseter's. Danielle considers Lasseter her "dream job," with the focus on organic farming, experimentation, and working collaboratively with the Lasseter's and team toward a shared goal of making wines that best showcase their beautiful estate vineyards.
Vineyard Manager / Enterprise Vineyard Management
Inspired by the experience of planting two acres of vines on Sonoma Mountain with his Dad and brother in 1967, Phil has dedicated his life to biodynamic and organic winegrowing practices, and is widely considered to be Sonoma County's finest organic viticulturalist, with over 600 CCOF certified vine acres under his supervision. Phil and his staff farm organically, using cover crops, advanced irrigation techniques, pest and invasive plant control, and optimum habitat maintenance. Of the Lasseters' Justi Creek Vineyard, Phil says, "It's an honor and a responsibility to help restore this historic property to its former glory. To see it thrive under the Lasseters' guidance and vision is exciting, and at the same time a little daunting. I'm looking forward to the wines that we'll be able to grow there for the next 50 years."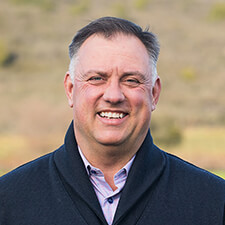 A powerful force in the wine world, Tony is a sixth generation Californian with over twenty years' experience as winemaker and consultant for some of the most esteemed wineries in Napa Valley, Sonoma County and beyond. On board at Lasseter since 2017, Tony was named 2021 Winemaker of the Year by Antonio Galloni. His Rhône and Bordeaux expertise, along with his commitment to mentoring the next generation, makes him an invaluable support and sounding board for Danielle in her quest to produce the most vibrant expressions from our unique estates.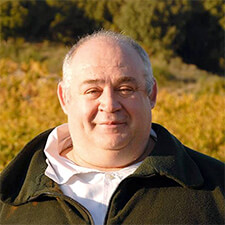 In remembrance: Philippe was a winemaking luminary, and a wonderful mentor and friend. His influence on the quality of wines in Châteauneuf-du-Pape and beyond is a legacy that will live on in the wines of all those fortunate enough to work with him. We will remember him not only for his passion for helping others fulfill their winemaking vision, but for his warmth, humor, and love of life. Here's to you, Philippe, with our unending affection and appreciation.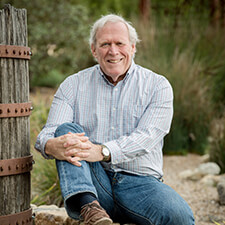 Glen Ellen resident Dennis Ziemienski is an award-winning graduate cum laude of the Bay Area's prestigious California College of Arts and Crafts. He has been internationally known as an illustrator and designer for 30 years, creating strong and richly colored images that borrow much of their inspiration from early 20th century paintings and posters. Nancy and John Lasseter were already fans of Dennis' work when they established the winery, and each wine label is a commissioned piece of his artwork that tells the story of the inspiration for each wine.