Nancy and John Lasseter fell in love with wine together, and when they moved to the Sonoma Valley in 1993, they discovered the art of winemaking through vintner friends. In time, their passion evolved from appreciation to a full immersion in the winemaking process.
When they discovered a historic winery and vineyard for sale in Glen Ellen, an early enclave for French winemakers in the late 1800's, they knew they had found a home where they could fulfill their dream of having a winery of their own. Since then, they have restored and reimagined the vineyards, nurturing a vibrant ecosystem in partnership with birds, bees, and flora.  At the heart of the serene property, they have built an environmentally sensitive production facility that respects the small footprint of the original winery.
Travels through the winegrowing regions of France inspired a love of Southern Rhône and Bordeaux wines, and the art of blending, which was the original template for Lasseter wines. As our vineyards have shown us the range of expression possible from their unique and varied terroir, our wines have evolved to a true expression of time and place. In addition to wine, we offer Lasseter Family Heirloom Farms herbs and honey, which are grown and produced on property.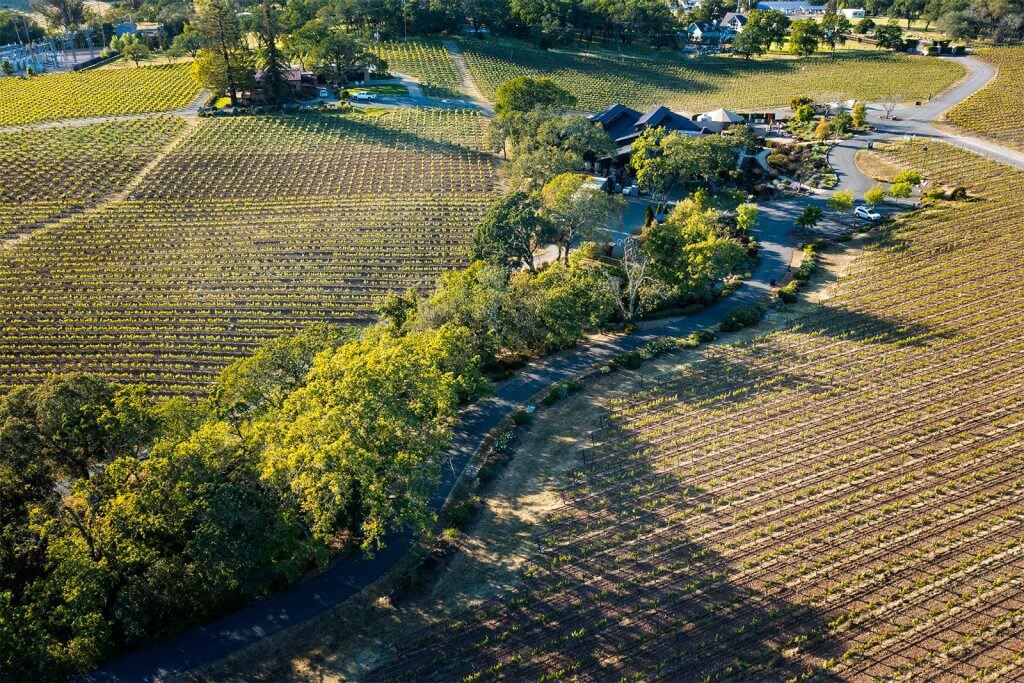 Justi Creek Vineyards
Site of our "home" vineyard and winery just outside the town of Glen Ellen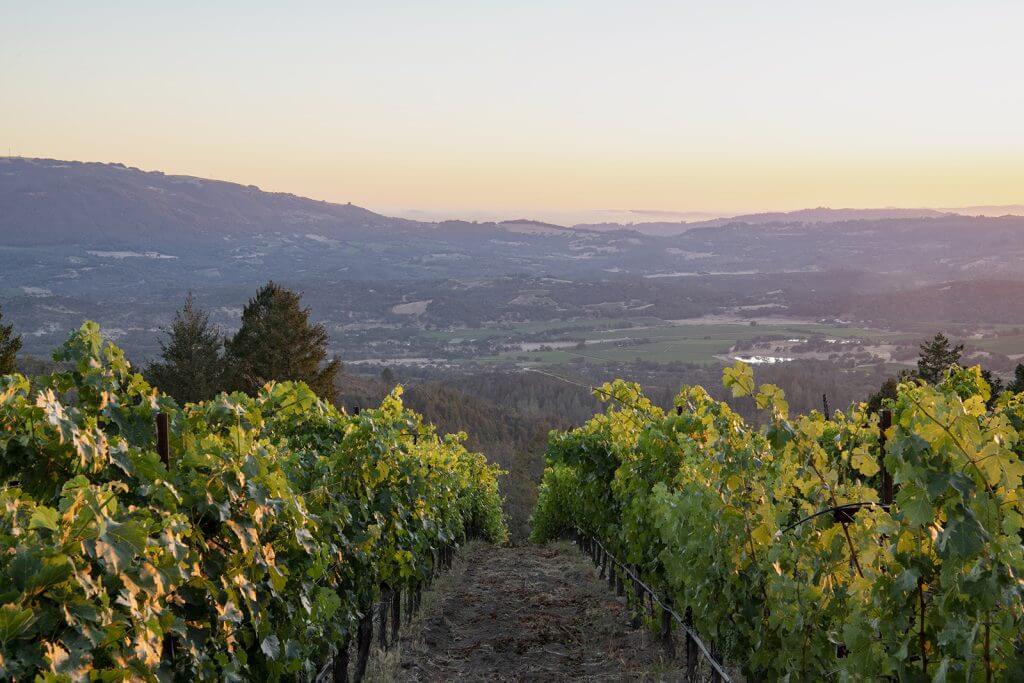 Trinity Ridge
Nine acres of rugged, volcanic, high-elevation terroir in the Moon Mountain District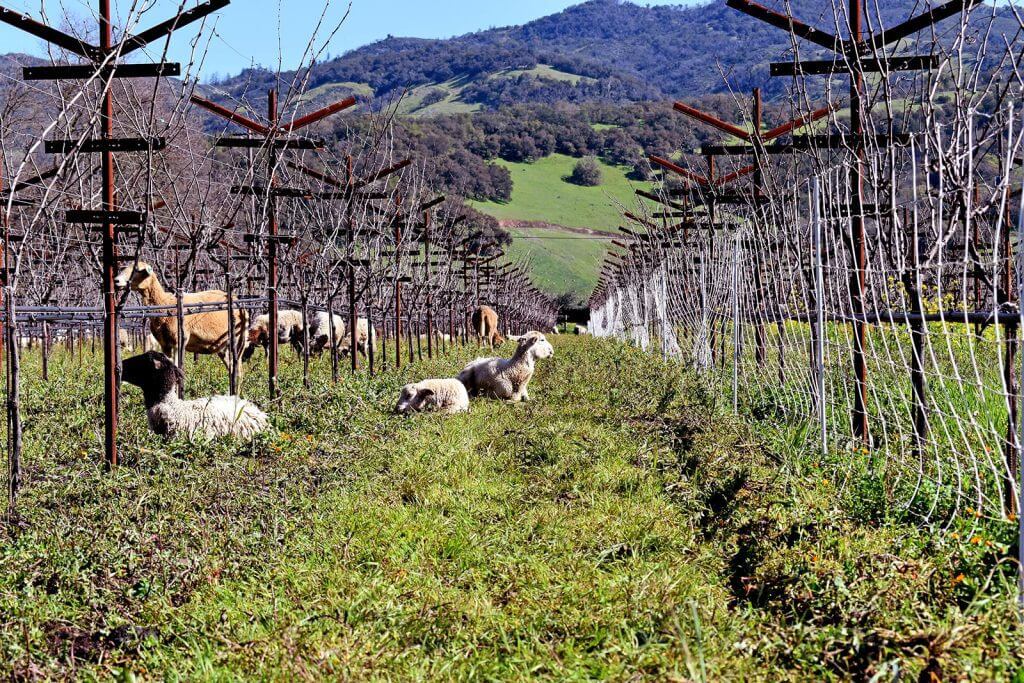 Los Guilicos
Our dedicated site for stunning Sauvignon Blanc, just north of the winery
Our estates are alive with stories of these special sites: Rhône and Bordeaux varieties lead the way at Justi Creek Vineyards. Our Heritage Blocks offer century-old Zinfandel in a field blend with rare varieties. High-elevation Trinity Ridge Vineyard in the Moon Mountain District, produces striking single-varietal wines. Los Guilicos Vineyard offers stunning Sauvignon Blanc. 
Our heritage sites have been carefully restored and our newer vineyards meticulously developed with a rich selection of clones within each variety, tailored to their varied microclimates, soils, and exposures. We farm organically and are deeply committed to water conservation and reclamation.
The Lasseters feel that serendipity led them to Glen Ellen, an early enclave for French winemakers, and to this historic property, founded by a French winemaker in 1894. That heritage meshed perfectly with their love of French wines, and they designed the winery as a modern homage, a state of the art facility that maintains a subtle low profile within the surrounding natural environment.
We hand harvest at night and early morning in small bins, to ensure ideal ripening throughout our varied microclimates. Rosé is produced from dedicated Grenache, Syrah, and Mourvèdre vines that are ripened for optimal Rosé aromatics, flavor, and brightness, rather than through the saigneé method using grapes ripened for red wine production.
In the cellar, decisions are influenced by what nature tells us for the vintage: we may ferment certain blocks, clones, or varieties separately, while co-fermenting others. Some lots will be de-stemmed, some fermented whole-cluster. For aging, we choose among steel and concrete tanks, French oak barrels, and oval oak "eggs," to create the "backbone" and "spice box" lots that will complement one another for a finished wine that best showcases the varietal or blend.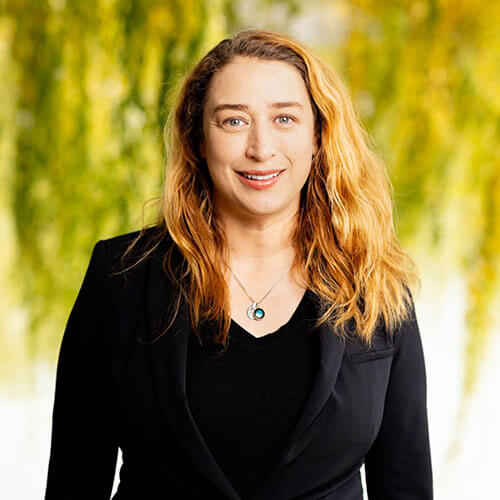 DANIELLE LANGLOIS
WINEMAKER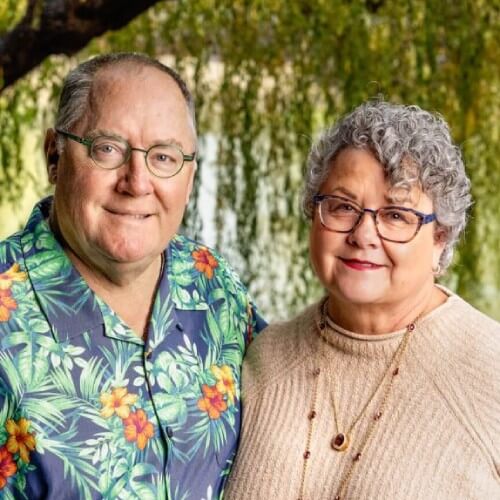 JOHN & NANCY LASSETER
PROPRIETORS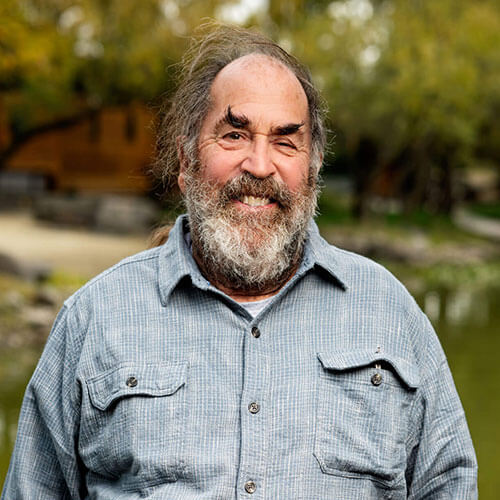 PHIL COTURRI
VINEYARD MANAGER / ENTERPRISE VINEYARD MANAGEMENT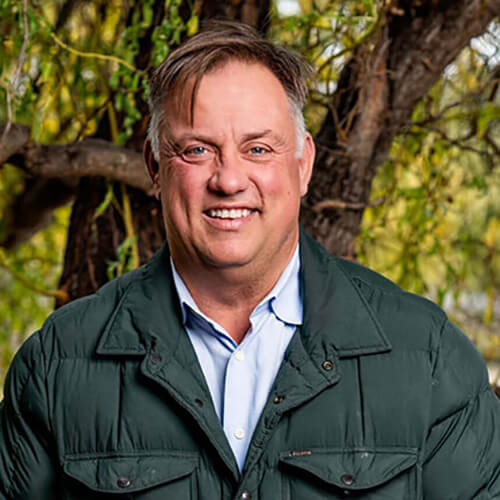 TONY BIAGI
CONSULTING WINEMAKER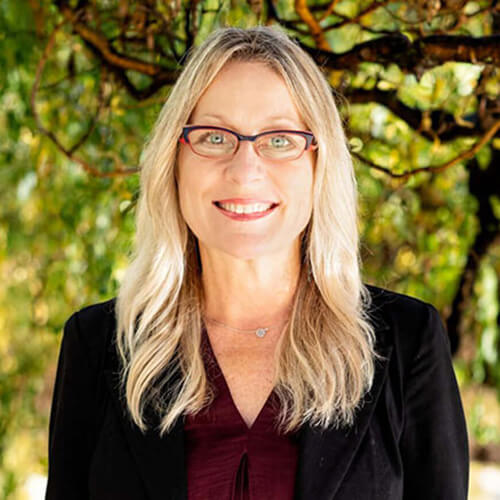 Jenifer Freebairn
VICE PRESIDENT OF MARKETING & SALES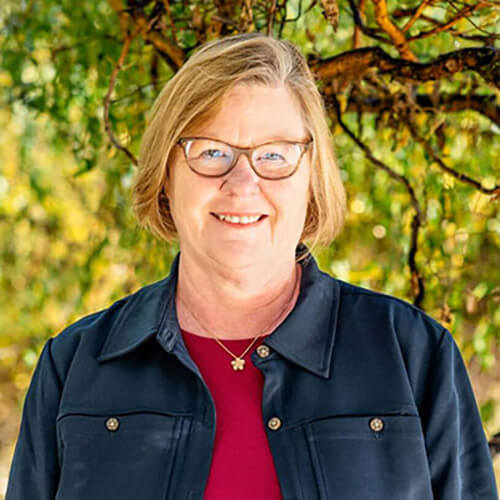 BECKY ROSS
GENERAL MANAGER & CFO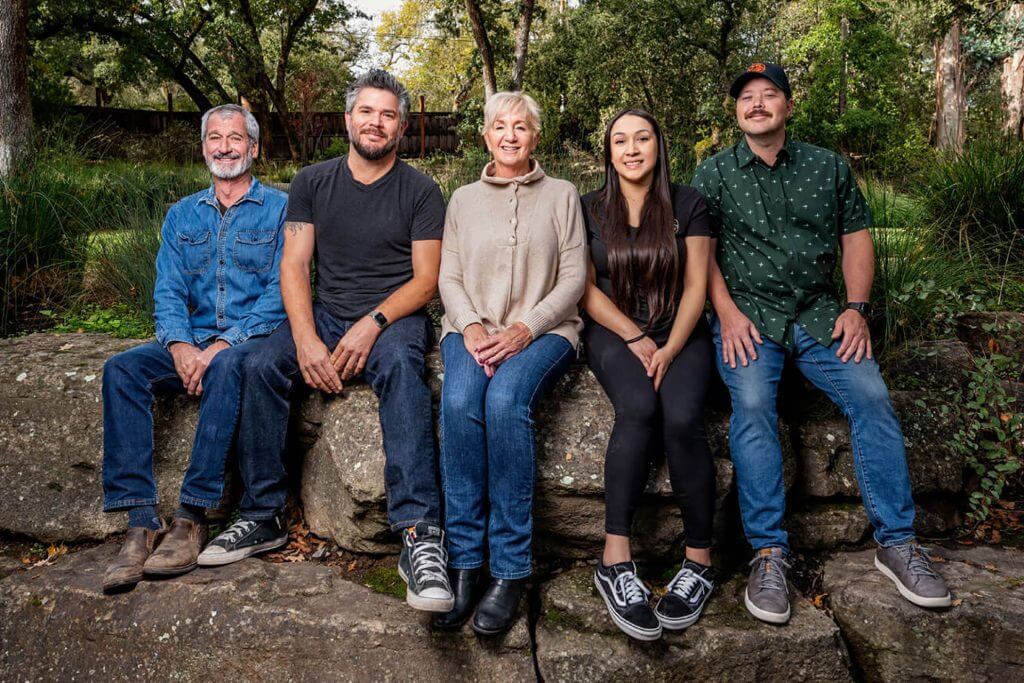 Hospitality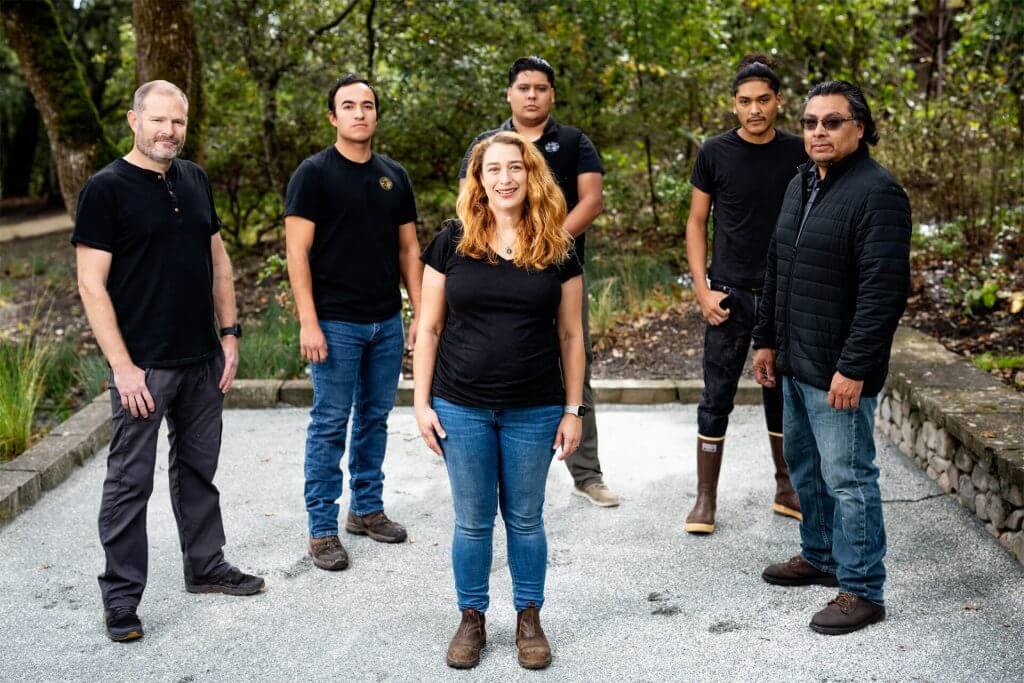 Production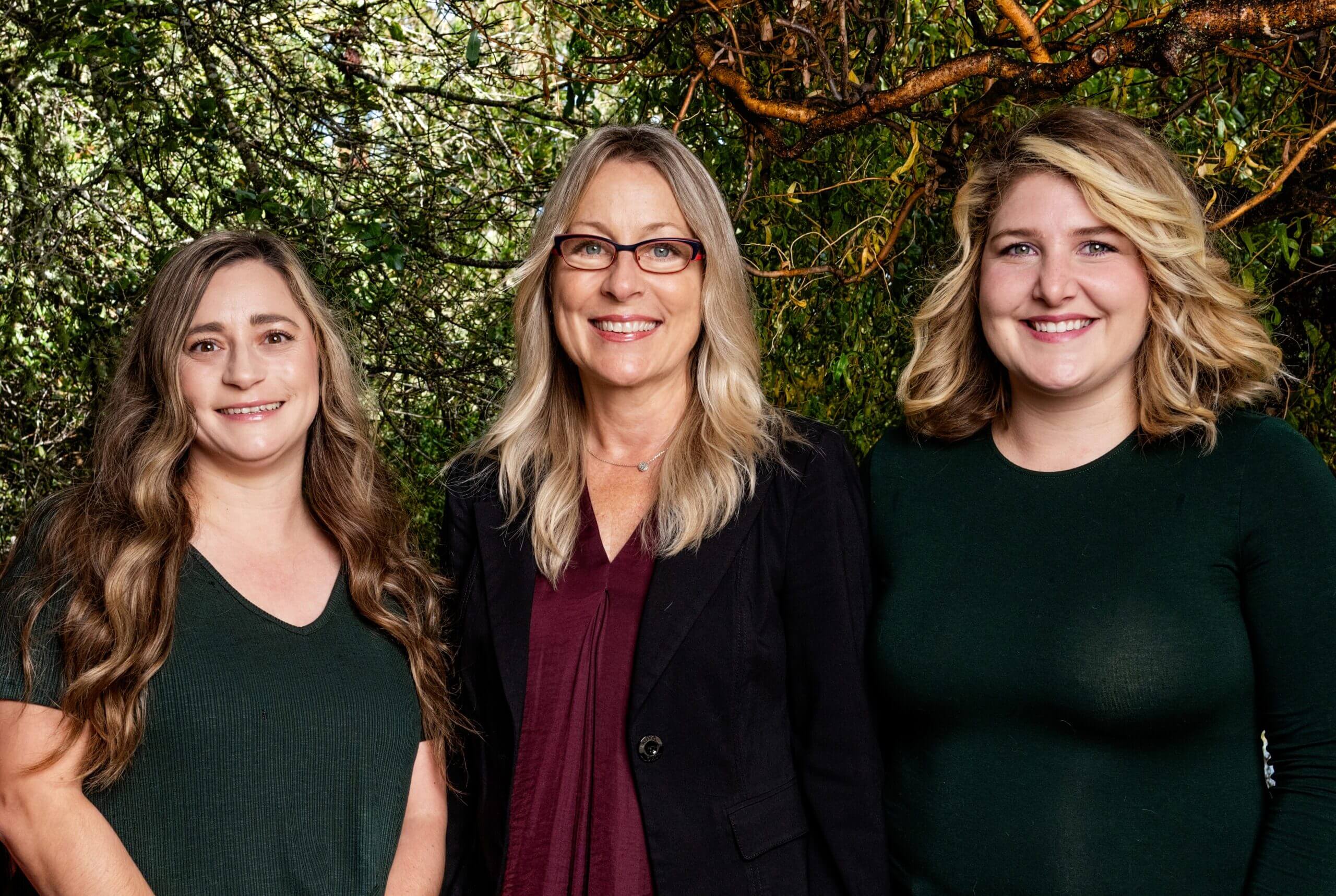 Marketing & Sales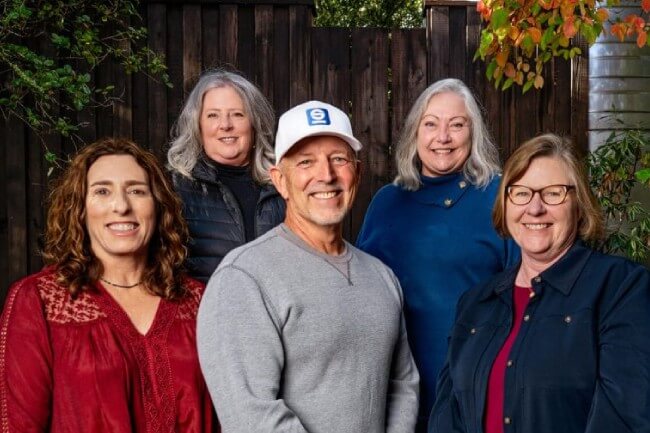 Finance & Administration
JOHN & NANCY LASSETER
PROPRIETORS
John and Nancy Lasseter first met at a computer graphics conference in San Francisco in 1985. They shared a love of storytelling, and soon discovered they both loved wine as well. In pursuit of this mutual passion, they would escape to Wine Country for romantic getaways, and they chose Sonoma County for their honeymoon. In the early '90's they moved to Sonoma Valley, where they felt they could put down roots in a small town and raise their five children. Once established in the community, they quickly caught the wine bug; and by 1997 they were bottling up their own Bordeaux blend to give out as Christmas gifts. Soon after, Lasseter Family Winery was born. As passionate about conservation as they are about wine quality, their historic estate vineyard is farmed organically, accompanied by a state-of-the-art, eco-friendly winery.
DANIELLE LANGLOIS
WINEMAKER
Throughout her young adult life, Danielle's father, Jack Langlois, shared his love of wine with her and encouraged her to consider a career in wine. While studying Chemistry at the University of Colorado she felt the inspiration to take that path and in 2013 she moved to Sonoma, where Robert Kamen gave her her first opportunity, as a harvest cellar intern. There she met Viticulturist Phil Coturri, and after working for Phil and then for Mark Herold Wines, Phil recommended her to Lasseter. Danielle considers Lasseter her "dream job," with the focus on organic farming, experimentation, and working collaboratively to make beautiful estate grown wines.
PHIL COTURRI
VINEYARD MANAGER / ENTERPRISE VINEYARD MANAGEMENT
Inspired by the experience of planting two acres of vines on Sonoma Mountain with his Dad and brother in 1967, Phil has dedicated his life to biodynamic and organic winegrowing practices, and is widely considered to be Sonoma County's finest organic viticulturalist, with over 600 CCOF certified vine acres under his supervision. Phil and his staff farm organically, using cover crops, advanced irrigation techniques, pest and invasive plant control, and optimum habitat maintenance. Of the Lasseters' Justi Creek Vineyard, Phil says, "It's an honor and a responsibility to help restore this historic property to its former glory. To see it thrive under the Lasseters' guidance and vision is exciting, and at the same time a little daunting. I'm looking forward to the wines that we'll be able to grow there for the next 50 years."
TONY BIAGI
CONSULTING WINEMAKER
A powerful force in the wine world, Tony is a sixth generation Californian with a long career beginning in the mid-1990's, as winemaker and consultant for some of the most esteemed wineries in Napa Valley, Sonoma County and beyond. On board at Lasseter since 2017, Tony was named 2021 Winemaker of the Year by Antonio Galloni. His Rhône and Bordeaux expertise, along with his commitment to mentoring the next generation, makes him an invaluable support and sounding board for Danielle in her quest to produce the most vibrant expressions from our unique estates.
PHILIPPE CAMBIE
CONSULTING WINEMAKER
In remembrance: Philippe was a winemaking luminary, and a wonderful mentor and friend. His influence on the quality of wines in Châteauneuf-du-Pape and beyond is a legacy that will live on in the wines of all those fortunate enough to work with him. We will remember him not only for his passion for helping others fulfill their winemaking vision, but for his warmth, humor, and love of life. Here's to you, Philippe, with our unending affection and appreciation.
Jenifer freebairn
Vice president of marketing and sales
Jenifer's love of wine was sparked and nurtured in her hometown of Los Angeles where she spent her post-university years composing, recording and performing music, while being mentored by top sommeliers over the course of many years in restaurant service and management. Her move to Sebastopol in 2002 made for an auspicious first harvest and full immersion into winery marketing, sales, operations, and production at Paul Hobbs Wines where she spent the next twelve years.
Her additional leadership roles include Kosta Browne Wine, Grgich Hills Cellars, and others as a consultant. She continues to compose and perform, and serves as Treasurer on the Sonoma County Parks Foundation Board of Directors. She is a passionate advocate of the parks, their life-changing youth programs, and commitment to accessibility for all.
Becky Ross
General Manager / Chief Financial Officer
Becky has spent her career in finance working with premier wineries in California, including Buena Vista Winery, Chalk Hill Estate Winery, Araujo Estate Wines, and BR Cohn Winery. She has been working with the Lasseters since 2007. When not at the winery, she enjoys the outdoors, whether traveling abroad or just spending time at the coast with her family.
Hospitality
Mike Schiller: Wine Specialist
Alex Solen: Wine Specialist
Audrey Green: Wine Specialist
Kimberley Ponce: Bar Back
Dan Leuck: Wine Specialist
Finance & Administration
Left to right:
Melina DiFonzo: Controller
Kim Woods: Inventory Manager/Accountant
Glynn Burchette: Estate Manager
Bernadette DeVenuto: Human Resources 
Becky Ross: General Manager and Chief Financial Officer
Marketing & Sales
Left to right:
Stephanie Reynolds: Consumer Direct Coordinator
Jenifer Freebairn: Vice President of Marketing and Sales
Jennifer Schiff: Hospitality and DTC Manager
Production
Danielle Langlois: Winemaker (center)
Cosme Arellanes: Cellar Master (far right)
Cellar Staff (back row, left to right): Brian Neirode, Aron Márquez, Brandon Arellanes, Jhony Arellanes
JUSTI CREEK VINEYARDS
Our original estate, an early enclave for French winemakers in the 1890s, has been painstakingly restored and reimagined with great attention to detail, and is the site of our modern, eco-friendly winery.
This warm site with its huge diurnal shifts and varied microclimates and soils, sits in the narrowest section of Sonoma Valley.
The Upper Bench Blocks are situated above the valley floor, on undulating terrain. The quick draining, cobbly soils of these blocks are ideal for the red Bordeaux varieties Cabernet Sauvignon, Cabernet Franc, Merlot and Malbec.
The Heritage Blocks, the warmest location on the estate, include a century-old Zinfandel block that speaks to the Italian heritage of the area. Planted in 1919, it is a classic field blend of Zinfandel and eight other varieties (in descending order: Cabernet Franc, Alicante, Petite Sirah, Grand Noir de la Calmette, Peloursin, Lenoir, Merlot, Mourvedre).  Specific blocks were redeveloped in traditional goblet style, including the red Rhône varieties Grenache, Mourvèdre and Counoise, with the remainder planted to Syrah and Merlot.
The Creekside Blocks sit along the east side of Calabazas Creek. With rocky soils over an alluvial fan, they hold the original planting of red Rhône varieties on the property: Syrah, Grenache and Mourvèdre. More recent plantings in the Train Block and Crescent Oaks Block, include Semillon along with additional Mourvèdre and Grenache vines all planted in goblet style.
Stone's Throw is the most recently acquired of the Lasseter vineyards and is named for its proximity to Justi Creek Vineyards. This site, just a "Stone's Throw" from our original vineyards, is a natural addition to our estate, given the similar soil types and microclimate.  It is being developed to red Rhône Varieties.
TRINITY RIDGE
The addition of high-elevation Trinity Ridge Vineyard, beginning with the 2017 vintage, opened a whole new chapter for us.
This dramatic site with its breathtaking views high atop Moon Mountain, produces strikingly pure, deep, bright Cabernet Sauvignon, Syrah and Sauvignon Blanc from its rugged, rocky, windswept volcanic terrain.  Its mere nine acres of vines (out of 44 total) offer a surprising diversity of microclimates and exposures for these varieties to produce intensely flavored wines of rich texture and complexity. 
LOS GUILICOS
Our newest vineyard is located off Highway 12, southwest of the town of Kenwood, in an ideal microclimate for white wine varieties, especially Sauvignon Blanc. We have meticulously redeveloped this vineyard as we expand our white wine offerings. It is the perfect complement to the Semillon grown at our Just Creek Vineyards.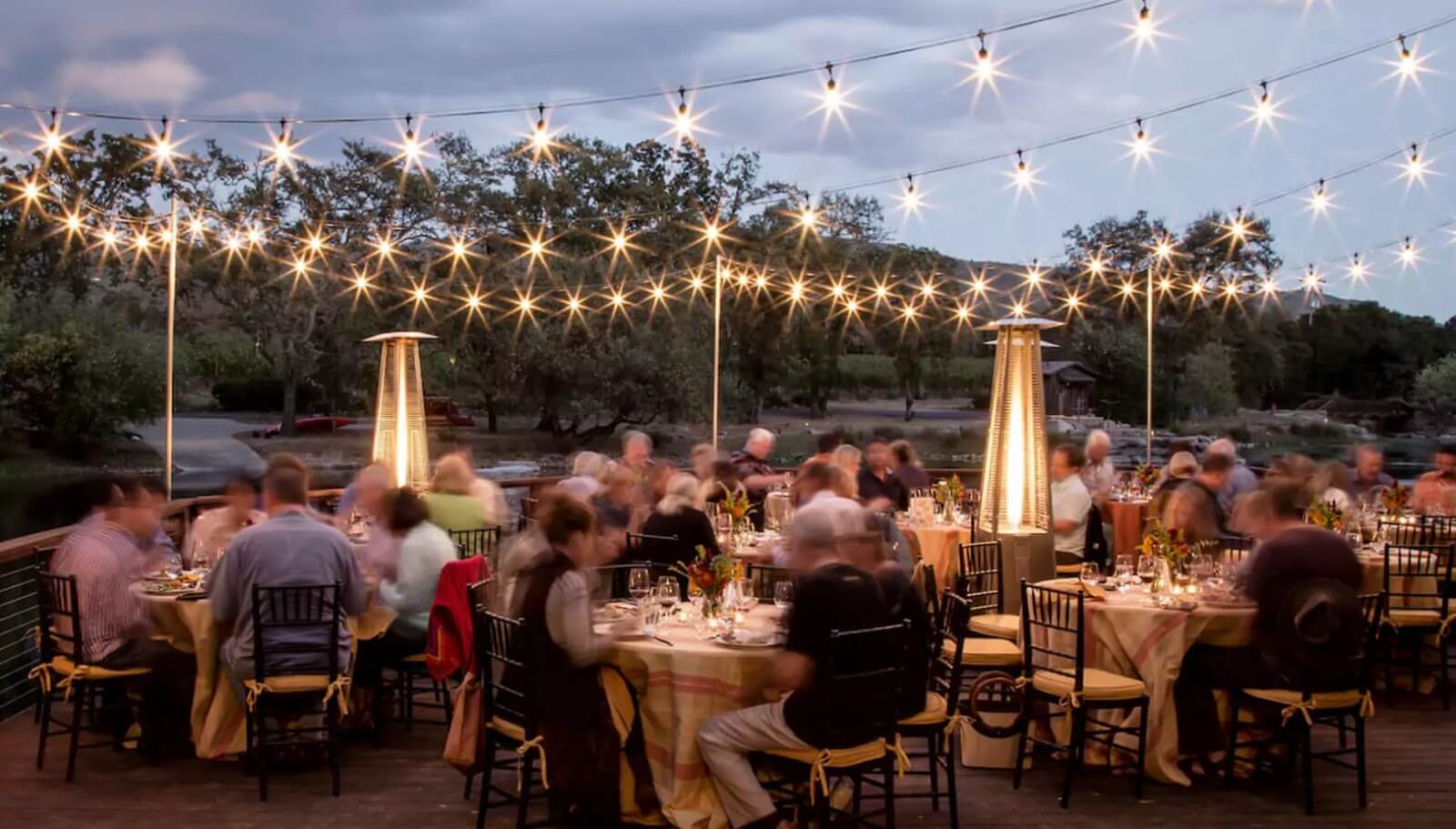 MEMBERSHIP
Join us for early access to new releases, exclusive access to special bottlings and winery events