Due to direct wine shipping laws, Lasseter Family Winery can only ship wine to the following states (highlighted in green): AZ, CA, CO, CT, FL, GA, HI*, IL, IN, IA, KS, KY, LA, MD, MI, MN, MO, NE, NV, NH, NJ, NM, NY, NC, OH, OK, OR, PA, SC, TN, TX, VA, WA, WI, DC.
If your state isn't listed above, check back periodically in case it is in progress.
*HI Residents: Requires Air freight shipping (2-Day Air)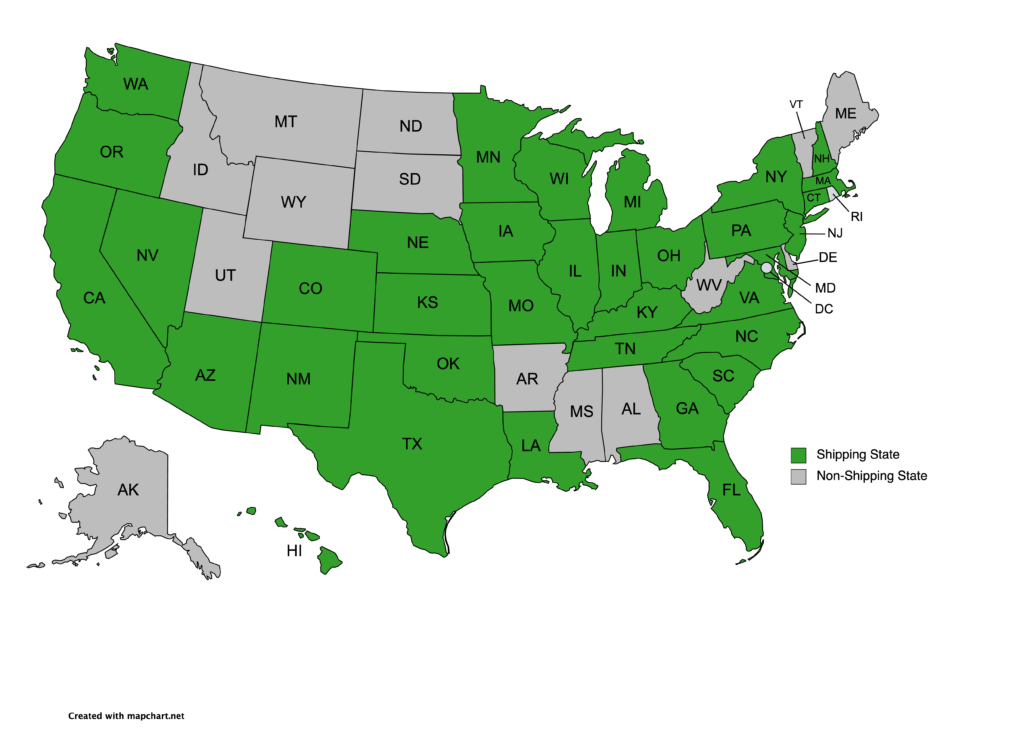 Terms as stated below shall refer to Lasseter Family Winery LLC as "LFW" and customer as "Purchaser". Standard freight carriers such as UPS or FedEx shall be referred to as "Carrier".
Legal Age Requirement: You must be 21 years of age or older to order and/or receive wine from "LFW". Receipt of shipments containing wine requires the signature of a person 21 years of age or older.
Third Party Fulfillment: "LFW" uses a third party fulfillment center for all daily orders and wine subscription shipments. Orders are received and verified daily at the winery before the shipment leaves the fulfillment center. Orders are generally shipped the following Monday after placement except for holidays.
Default Shipping Method: All orders are shipped to arrive within three days, unless otherwise requested. Orders received after noon on Tuesday will ship the following Monday except for holidays. If you would like same day fulfillment and shipping for your order, please contact Customer Service at (707) 933-2814. When your shipment is picked up by the common carrier for delivery, responsibility for the wine transfers to the purchaser.
Shipping Rates: "LFW" maintains every effort to publish accurate shipping rates for purchases made at winery and through its online shop. However, rate changes may occur at any time and without notification. Therefore additional charges above the quoted or charged rate from winery will be the responsibility of the Purchaser and their shipment charge will be adjusted accordingly.
Heat & Weather Conditions: Because of our sensitivity to the temperature variances that can occur during the summer months, we generally ship Monday through Wednesday during periods of high heat (above 85°F) to ensure same week delivery. We may, at times, contact customers to consult on overnight shipping or holding the shipment back to ensure the integrity of their wines. You will receive an email confirmation and tracking number when your order has shipped. Please call Customer Service at (707) 933-2815 for specific shipping questions.
Destination Address: We strongly recommend delivery of wine shipments to a business, rather than a residence. All shipments require a signature to verify proof of age (over 21 years old). Should a shipment be returned because a signature cannot be obtained, we will not refund the shipping charges. We regret we cannot deliver to P.O. boxes.
RETURN POLICY
"LFW" stands behind every wine we make, and we want you to be completely satisfied with your purchase. If, for any reason, you are not satisfied with your order, please contact us within 30 days of receipt of your order and we will arrange for replacement (pending availability). Please contact us at info@lfwinery.com or at 707-933-2814.
Shipments returned to LFW for invalid address/no signature: If a shipment is returned to LFW due to an invalid address or inability to obtain a signature, the carrier will make a final delivery attempt and in most cases re-direct the shipment to a local hold facility for pickup. Most hold facilities will only hold shipments for 5 business days before returning to LFW. LFW will attempt to contact you should your shipment be returned to us to arrange to re-ship your order. You will be subject to return shipping charges and shipping charges associated with re-shipping your order. We highly recommend shipping to a business address or a local carrier hold facility to avoid delays and missed deliveries. For assistance with your shipment please call 707-933-2814 or email info@lfwinery.com
Effective 4/1/14