Sep
28
Lasseter Family Winery Winemaker Julia Iantosca shares this morning's harvest and her brief video history and complexity behind our Rhône varietal, Grenache Clones A and C grapes.  Click to watch video.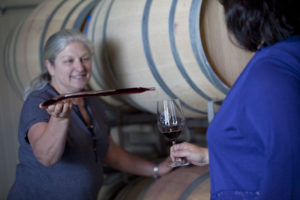 Lasseter Family Winery Winemaker Julia Iantosca
Additional History
The Rhône varietal, Grenache Clones A and C grapes originated from Château de Beaucastel in France and the Tablas Creek Vineyard partnership brought these grafted vines of Grenache to California.
The Grenache Clone A and C are grown on our seven-acre Creekside Block along the east side of the Calabasas Creek on the valley floor and is the lead varietal in our harmonizing and supple Rhône-style blend Chemin de Fer wine.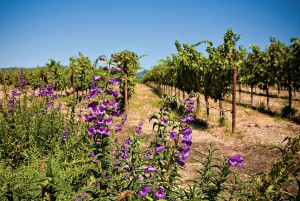 Lasseter Family Winery Creekside Block
The History of Beaucastel
Château de Beaucastel is a winery located in the southern part of the Rhône valley in France, which is primarily noted for its Châteauneuf du Pape wines produced in a long-lived style.
In 1321, under the reign of Pope Jean XXII, four barrels were brought from the papal cellar to be filled with wine in Châteauneuf. Then, the Popes planted new vines and the legend of the papal wine began.
You can find the first evidence of Château de Beaucastel as it exists today in the sixteenth century. In 1549, Pierre de Beaucastel bought a barn with a plot of land extending to 52 saumées at Coudoulet.
In 1909, Pierre Tramier leads the wine estate and then transfers it to his son-in-law Pierre Perrin, a scientist that developed Beaucastel. Then Jacques Perrin continued his father efforts until 1978 and gave its noble letters to this wine.
Today, the torch is being carried by Jean-Pierre and François, Jacques Perrin's sons that continue the beautiful story of Château de Beaucastel. Marc, Pierre, Thomas, Cécile, Charles, Matthieu and César, the 5th generation, work today all together with them. Beaucastel is, first of all, a family story, the story of Famille Perrin. Their main strength is being able to blend the talents of each family member to run the wine estate under common values: absolute respect for land and terroir, biodynamic culture as a philosophy of life, the research of truth, balance and elegance.
The 100 hectares situated around the Château, the historic land of Beaucastel, have the memory of the 13 grapes varieties of Châteauneuf-du-Pape appellation: Mourvedre, Grenache, Syrah, Cinsault, Vaccarese, Counoise, Terret Noir, Muscardin, Clairette, Picpoul, Picardan, Bourboulenc and Roussanne.
The Tablas Creek Vineyard Partnership
Tablas Creek Vineyard in the Paso Robles area brought in the original Grenache Clones A and C from Château de Beaucastel.
Tablas Creek is the realization of the combined efforts of two of the international wine community's leading families, the Perrin family, proprietors of Château de Beaucastel, and Robert Haas, founder of Vineyard Brands. They had since the 1970s believed the California climate to be ideal for planting Rhône varietal grapes. In 1987, they began the lengthy process of creating a Châteauneuf-du-Pape style vineyard from scratch in the New World. The Tablas Creek Vineyard Partnership was born, with the Perrin and Haas families as majority partners, and French and American wine loving friends as minority partners.
The Site
The partners searched California from the foothills of the Sierras in the north to coastal Ventura County in the south, looking for a close match to the Mediterranean climate and high pH soils of Château de Beaucastel. In 1989, they purchased a 120-acre parcel twelve miles from the Pacific Ocean in west Paso Robles. They named it Tablas Creek Vineyard, after the small creek running through the property.
The property elevation averages 1,500 feet, and the shallow, rocky limestone soils are of the same geologic origin as those at Beaucastel. Summer days are hot and sunny, but the influence of the nearby Pacific cools the nights, and the remarkably Rhône-like Paso Robles climate allows the grapes to mature fully and yet retain crisp acidity.
The Vines
To ensure that the vines at Tablas Creek were of the highest quality and same genetic source of those at Beaucastel, the partners imported vinifera from the French estate. Several clones each of Mourvédre, Grenache Noir, Syrah, Counoise, Roussanne, Viognier, Marsanne, Grenache Blanc and Picpoul Blanc were imported. This diversity allows Tablas Creek to replicate the clonal selection of an established French vineyard.
In January 1990, the first vine cuttings were imported from France. Before arriving at Tablas Creek, they underwent a USDA-mandated three-year indexing process that ensured that the vines were virus-free; the first imported vines were available for multiplication at Tablas Creek in 1993. New clones and new varieties continue to arrive at Tablas Creek each year. Planting at the estate began in 1994, with 105 acres under vine as of 2013.
The Nursery
In order to multiply the imported vines into the quantities necessary for the vineyard, Tablas Creek constructed its own nursery complex of high-tech greenhouses and shadehouses. There, vinifera was multiplied, grafted onto rootstocks, and gradually hardened off to sun and wind in preparation for planting in the vineyard.
At its peak, the nursery produced over 200,000 bench-grafted vines for planting in Tablas Creek's own vineyard and for sale to interested growers each year. Although they no longer use the Tablas Creek's nursery for commercial grafting, they now partner with NovaVine, of Sonoma, California, to make available grafted vines and budwood of Tablas Creek clones.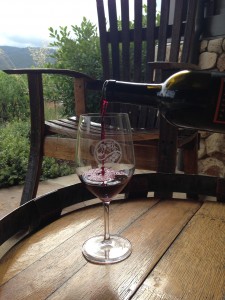 Lasseter Family Winery Chemin de Fer
Lasseter Family Winery is proud and honored to produce our Rhône-style blend Chemin de Fer wine from these grafted vines of Grenache Clones A and C. Fruit forward and food friendly, this wine evokes memories of the Lasseters' relaxing train travel through France and the old world blends enjoyed on their journeys. Once home in Sonoma Valley, guided by their memories of those delightful French wines, the Lasseters' created their own red blend of estate Grenache, Syrah and Mourvèdre grapes. They chose the name Chemin de Fer, a French phrase that means "railroad," to honor the path that led them to this wine.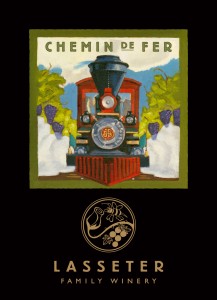 The label painting artwork, by acclaimed Sonoma Valley artist Dennis Ziemienski, depicts their steam train as it meanders through the Syrah vineyard. Deep garnet in color, this wine has aromas of raspberry and spice, followed with mouth-watering berry flavors that harmonize with soft, supple tannins for a smooth finish. It is a well-balanced wine that is easy to pair and easy to drink; one that reminds the Lasseters' of relaxing, laidback European train trips.
Are you all aboard for sharing your love for our Chemin De Fer?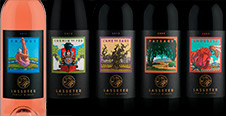 Lasseter Family wines are crafted in an old world style, an expression of John and Nancy's love of France: its beauty, grape varieties and blended wines.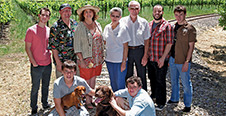 In 1993, Nancy and John Lasseter moved to the town of Sonoma, and they soon discovered the art of winemaking through a small group of winemaking friends.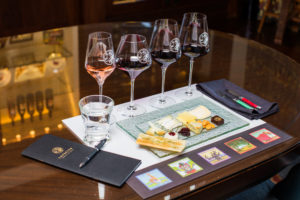 We invite you to make an appointment to visit us at our beautiful estate in the Sonoma Valley where you will enjoy an insider's look at our vineyards & state of the art winery.
Cheers from Lasseter Family Winery!
One Vintage Lane Glen Ellen, CA 95442 (707) 933-2800 info@lfwinery.com
Copyright © 2016 Lasseter Family Winery. All rights reserved.
Château de Beaucastel and Tablas Creek Vineyard history facts in this blog were taken directly from their website to provide their own accurate facts.