We are sweetening things up around here at Lasseter Family Winery, and we have the honeybees to thank for that!
At the Lasseter Family Winery estate we continue to lovingly restore the natural eco-system habitat and land to good health. Our exclusively maintained organic farming and sustainable growing practices have led us to the honeybees. The youngest Lasseter son has contributed to the family's sustainable growing practices by looking after several colonies of honeybees, right on the edge of the Creekside Syrah Block. The family has pulled out invasive plants and reintroduced native species, bringing the estate together as a functioning and beautiful, and productive whole.
It cannot be denied that the honeybee is the greatest pollinating mechanism when it comes to agriculture and beyond. By keeping flowers pollinated, bees perpetuate floral growth and insectaries and provide attractive habitats for beneficial insects, birds and predators.
Bees are easily amongst the most important insects to the human race. These humble, humming bugs provide us with our favorite fruits and vegetables, delicious honey and flowery gardens. Without the help of the honeybees pollination, plants would not be able to reproduce and crop bearing plants would not be fertilized enough for necessary food yields.
There seems to be a lot of buzz about these honeybees and the decline of the honeybee colonies, yet there is a continued demand for pollination services, such as with beehives (bee boxes). According to The Nature Conservancy, the number of honeybee colonies has dropped to about 2.5 million from more than 4 million in the 1970s. There are several reasons as to why this may be happening: loss of habitat, pesticide use, unspecified fungal diseases or mite infestations.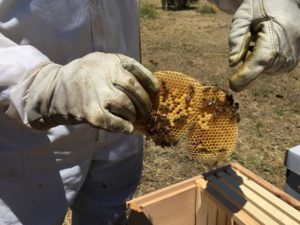 At Lasseter Family Winery, we want to assist these very important insects and help the honeybee population thrive by utilizing our pesticide-free 95-acre estate of organic and sustainable farming and growing practices. The property flourishes with colorful floral growth and beneficial insectaries, so the honeybees keep our estate blooming with flowers, and our fruit and vegetable gardens thriving, thus increasing the honeybee colonies…it's a win-win!
With the installation of several more colonies of honeybees we have two types of beehive systems on the Lasseter Family Winery estate. The Langstroth beehive, which we have been using on the estate since 2005, is a commercial grade beehive patented in October 1852, it is the standard beehive used in many parts of the world for beekeeping. In a good honey-producing year, the Langstroth beehive can produce up to 60 pounds of honey per year. With regard to our newly installed Langstroth beehive, which is closer to the winery, our Beekeeper, Mike Turner of the Marin Coastal Bee Co. advised us that the bees are replacing the current queen with a new queen bee. In a beehive when the queen bee begins to age or in the process of dying, the worker bees begin a process of building queen-size cells in the hive. Inside these larger, vertically oriented cells, the workers know to feed these potential queens a special food called "royal jelly." Ultimately, the developing queens raised in these cells might fight to the death to determine which one will become queen.
The second type we recently added is a revolutionary new beehive that became available in 2016, known as the Flow Hive system. The recently added Flow Hive claims to make the extraction process of honey far less stressful for the bees and so much easier for the Beekeeper. The extraction process is so gentle, the bees barely notice at all, as fresh honey flows right out of the hive and into a jar. Since this is new installation it will take us some time to determine its successfulness for the honeybees, and the quality and quantity of honey produced, but it is estimated that this beehive can produce up to 40 pounds of honey per year, which is less pounds than the Langstroth due to the smaller size of the Flow Hive bee box.
Since almost mid-June of this year when the Langstroth and the Flow Hive beehives were installed near the winery, the bees were in the process of increasing theirpopulation to support growing life for a successful and thriving hive. Currently, since the population is at an
advantageous size, the bees in both of these hives are storing as much honey and pollen as possible in the anticipation of having enough food for the bees to survive in the winter months. Then during the winter months the bees have one job, taking care of the queen bee and keeping her warm and safe. More on bees winter survival skills in a separate blog post ….. so shelving this subject for now.
With these two beehive systems we are conducting a comparison to evaluate how each beehive system works between the Langstroth and the Flow Hive system so we can better understand and assist in the honeybees survival, after all there is a direct connection between the bees pollinating the crops and our ability to provide food for our families. Essentially it is all about bees, and the survival of the human race.
In addition to assisting in the honeybee's survival, we will be producing honey from our estate beehives that will be available around the summer of 2017 through our Lasseter Family Winery Heirloom Farms on the winery estate, and evaluating how each beehive system is better for the honeybees and their production of creating high quality honey.
Check out our video as our Beekeeper Mike Turner of the Marin Coastal Bee Co. provides a brief explanation of the Flow Hive and evaluates the queen bee and her workers and their honey making progress. Don't get stung:  https://youtu.be/VabV7ONLUpM
Finally, we will not claim to be experts on honeybees; we will leave that to the honeybee experts. So, if you would like to learn more about honeybees and their life in the hive, and why they are so important to our planet, and how you can keep the honeybee population thriving, then we encourage you to visit the informative and sweet websites we buzzed upon:
Honeybee Centre: http://goo.gl/tAs6kd
One Green Planet: http://goo.gl/0Qp1OB
The Nature Conservancy: http://goo.gl/oB7lXJ

Here is more information regarding our Lasseter Family Winery Heirloom Farms, these products can be purchased directly from the winery by calling (707) 933-2814 or reach out via e-mail at info@lfwinery.com.
Veronica Eicken is the Research and Development Chef for Lasseter Family Winery Heirloom Farms.
Veronica's interest in cooking began around 8 years old when a Julia Child cooking show was on instead of her usual cartoons. She never looked back.
Veronica is a Sonoma County native and has been cooking professionally for over 10 years
She has a deep passion for sustainably grown, organic produce and enjoys utilizing the bountiful harvest from both the Estate gardens and her own home garden as well. Her specialties are baking, food preserving and healthy cooking, and she enjoys sous vide cooking as well.
Lasseter Family Winery Heirloom Farms Products
Alpine Strawberry Jam (Pectin-Free)
Greek Herb Rub
Mexican Herb Rub
Provencal Herb Rub
Tuscan Herb Rub
Greek Herb Blend
Mexican Herb Blend
Provencal Herb Blend
Tuscan Herb Blend
Strawberry Thumbprint Cookie Kits (Gluten-Free)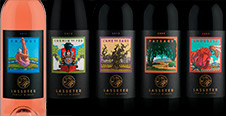 Lasseter Family wines are crafted in an old world style, an expression of John and Nancy's love of France: its beauty, grape varieties and blended wines.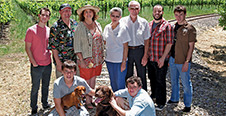 In 1993, Nancy and John Lasseter moved to the town of Sonoma, and they soon discovered the art of winemaking through a small group of winemaking friends.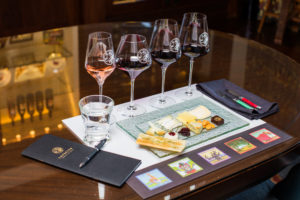 We invite you to make an appointment to visit us at our beautiful estate in the Sonoma Valley where you will enjoy an insider's look at our vineyards & state of the art winery.
 One Vintage Lane Glen Ellen, CA 95442 (707) 933-2800 info@lfwinery.com
Copyright © 2016 Lasseter Family Winery. All rights reserved.
Note: Some honeybee facts and figures were utilized from the credited websites indicated above, as again, we are not experts in honeybees, just experts in wine and farming.
Read More