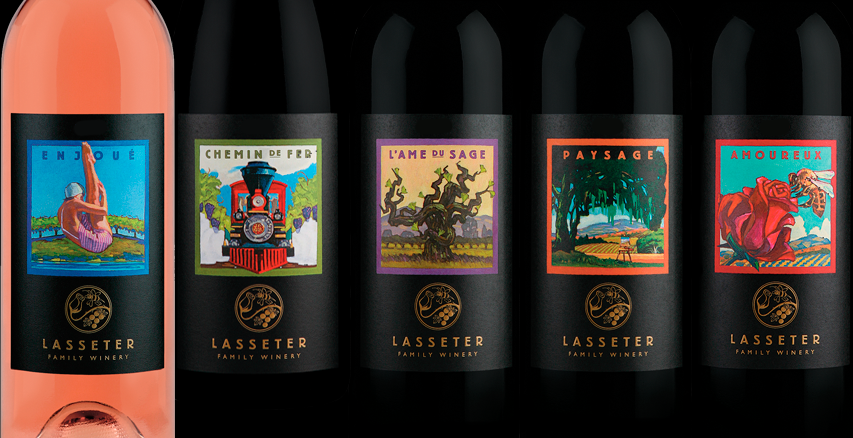 "Art" is defined as the realm of what is beautiful, appealing, and of more than ordinary significance. Nancy and John Lasseter believe that making wine is an art form, and that great wine should manifest all that is artful.
Winemaker Julia Iantosca is a true artist. Like a chef using her palate to create a delicious sauce, or like a composer building a symphony out of woodwinds, strings and horns, Julia uses her blending skills, experience and intuition to create wines that are artful and harmonious. She also relies on the palate of Cellarmaster, Bart Hansen, to help fine-tune these compositions.
John and Nancy have long been fans of internationally acclaimed Sonoma Valley artist Dennis Ziemienski, and of his retro, posterly style. They are proud to feature Dennis' artwork on all of the Lasseter Family Wine labels, with each label telling a story particular to that wine. Through Dennis, the Lasseters have found the ideal way to express their love for wine and for the art of story telling.
Wine tasting, of course, is also an art; and the Lasseters have created a lovely tasting experience, which takes place in the Glen Ellen winery's dedicated "Wine Room." Each of the unique blended wines is artfully paired with just the right flavors for tastings, winemaker dinners and special events. Dennis Ziemienski's wine labels not only adorn the Lasseter's bottles, but also appear on a series of wooden puzzles, available at the winery. When you visit the Wine Room, you might find a puzzle in progress. Visitors may also purchase beautiful posters and other tastefully designed merchandise.
Lasseter Family Winery is open to the public by appointment only. To schedule a tasting, click here.